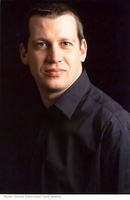 Rumon Gamba
Conductor of IOS from September 1997 to June 2000.
Rumon Gamba was appointed the Lloyds Bank BBC Philharmonic Assistant Conductor as a result of winning the Lloyds Bank BBC Young Musicians 1998 Conductors Workshop in February 1998.
After reading music at Durham University, he studied with Colin Metters at the Royal Academy of Music, where he was the first conducting student to be awarded the DipRAM. Whilst at the Academy Rumon had regular classes with Sir Colin Davis and George Hurst, and was also taught by Christopher Adey, Martyn Brabbins, Lutz Kohler, Ilya Musin and Mark Wigglesworth. The many prizes he won at the RAM included the Henry Wood Scholarship and the Bob Harding bursary, which led to appointments as Assistant Conductor to the Havant Symphony Orchestra and British Youth Opera.
Rumon has conducted at the Newbury, Ashover, Lichfield and Wraysbury Festivals. He has worked in Poland and Russia and in 1997 was invited to participate in the International Masterclass for Conductors as the British representative in St Petersburg. During 1998 he conducted the BBC Philharmonic in its Blue Peter Family Concerts at The Bridgewater Hall and The Royal Albert Hall, London as well as performances at Stoke-on-Trent, Lichfield and York University. He also made debuts with the BBC Scottish Symphony Orchestra, the Royal Liverpool Philharmonic Orchestra and Manchester Camerata.
Rumon was made an Associate of the Royal Academy of Music in 2002.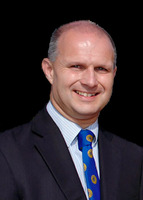 Jonathan Kirk
Conductor of IOS from September 1986 to June 1997.
Jonathan Kirk graduated in 1984 with a music degree from Trinity College, Cambridge where he was a Choral Scholar. Whilst at Cambridge, he studied the oboe with Lady Barbirolli in London. He continued his studies at the Royal College of Music on the Advanced Orchestral Conducting Course working with Christopher Adey and the late Norman de Mar. Jonathan also studied the oboe with Sarah Francis, achieving the ARCM performers diploma in 1985.
Having been Director of Music at St Thomas' Hospital, London and later conductor of the Strand Chorale of London, Jonathan was appointed conductor of a new choir, Cantate! in 1995. With his appointment as conductor of the Ipswich Orchestral Society in 1986, Ipswich had the opportunity to hear several performances of Shostakovich symphonies and other Russian and Romantic composers. Jonathan has toured extensively and has performed in every Western European capital, Scandinavia and Russia.
Jonathan also worked as a recitalist and an accompanist and taught oboe and piano. In 1990 he was appointed Director of Music at Berkswell Parish Church, near Coventry, continuing over 25 years involvement with church music. His conducting and playing experience has covered a wide range of music from the 12th century to the present day including orchestral, choral, operatic and chamber works. Jonathan also enjoys composing and his works include his church musical, several short anthems, his mini-musicals for children and his Te Deum Laudamus.
Christopher Phelps
Conductor of IOS from 1974 to June 1988.
After his early training in Gloucester as a chorister, organist and pianist, Christopher Phelps studied at the Royal College of Music in London, winning many prizes. He was organist and choirmaster at Armagh Cathedral before moving to Vienna to study with Hans Swarowsky at the Akademie fur Musik. From there he went to work and study in Italy and Salzburg, winning international prizes, particularly for his conducting.
Christopher has worked with many distinguished musicians including John Lill, Nigel Kennedy and Leon Goossens, and has also had the opportunity to work in a Master Class with Herbert von Karajan. Since 1973 he has worked in Colchester and is currently Course Tutor for the BA Music course at the Colchester Institute School of Music. He has been Conductor of the Colchester Orchestra since 1983 and Musical Director of the Hadleigh Choral Society since 1991. He also conducts the Kelvedon Singers.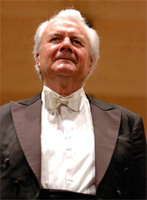 Sir Colin Davis (1927-2013)
Conductor of IOS from November 1954 to March 1955.
Sir Colin Davis became Assistant Conductor with the BBC Scottish Symphony Orchestra in 1957, and moved to Sadlers Wells in 1959 as Principal Conductor and then Musical Director. In 1971, after four years as Chief Conductor of the BBC Symphony Orchestra, he became Musical Director of the Royal Opera House, Covent Garden. From 1983 to 1992 he was Music Director and Principal Conductor of the Bavarian Radio Symphony Orchestra and has been Honorary Conductor of the Dresden Staatskapelle since 1990. Sir Colin is Principal Conductor of the London Symphony Orchestra.
Sir Colin Davis has recorded widely for Philips and BMG and has a continuing programme with them. Recent recordings for BMG are Fidelio and several live concerts from Munich, including Mahler's Symphony No 8 with the Bavarian Radio Symphony Orchestra. BMG released Lohengrin with the Bavarian Radio Symphony Orchestra and Choir, and Sibelius' Symphonies Nos 2 and 6 with the London Symphony Orchestra in the autumn of 1995. Philips recorded Britten's A Midsummer Night's Dream with the London Symphony Orchestra and released the complete Beethoven Symphonies with the Dresden Staatskapelle in December 1995.
Sir Colin Davis has been awarded international honours by Italy, France, Germany and Finland. He has also received many awards in Britain; the most recent being the Royal Philharmonic Society Gold Medal in 1995. Sir Colin Davis was made a Commander of the British Empire in 1965 and received a knighthood in 1980.
And ...
Conductors of IOS from 1902.
| | |
| --- | --- |
| 1966-1973 | Paul Hardman |
| 1966 | John Alldis |
| 1963 - 1966 | Graham Treacher |
| 1963 | Michael Hamm |
| 1957-1963 | Merlin Channon |
| 1956 | William Ruttlegge |
| 1954-1955 | Colin Davis |
| 1948-1953 | Peter Burges |
| 1947 | Philip Pfaff |
| 1921-1939 | Edgar R Wilby |
| 1920 | H Urquhart Cawley |
| 1902-1919 | Walter W Sinclair |
Sir Colin Davis' Letter of Application for The Post
Reproduced with the kind permission of Sir Colin Davis